Two is definitely 'better than one' says Stevie Ray Vai
Cloning.
Just the word alone will conjure up a whole host of feelings, thoughts, and skepticism. But here at Chibson HQ, we see $$$ where others see ¯\_(ツ)_/¯
In the early 1980s, we created the most rock-solid non-disclosure agreement known to man then got to work attempting to collect as many authentic pieces of Rock DNA as we could. That didn't work.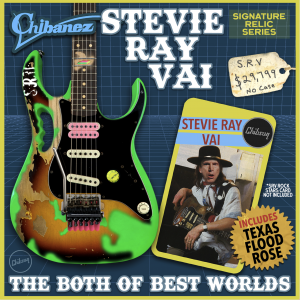 So we moved on to Plan B…asking random people if they had anything that might contain DNA from famous Rockstars! To our surprise, we actually had some laying around HQ the whole time!
We weren't really sure how to run the cloning machinery so we threw in a handful of guitar picks we'd caught at live shows and EUREKA, it took!! After the smoke cleared and we paid the hospital bill from our Shock Induced Coma, we stood face to face with the most elusive Guitar Hero ever seen…Stevie Ray Vai!
After many hours of back and forth, we finally agreed on the perfect signature guitar for this Texas Blues Rock New York Shred pioneer. After weeks of deliberating, SRVai still couldn't decide what the case should look like so we just skipped that step and passed the savings on to you…Who are we kiddin'?! We added another zero for convenience!
Chibson USA…accept no imitations.
Share This Story!