The Chibson Team Crashes NAMM 2020
There aren't many companies that hold the honor of being "banned" from one of the largest music industry trade shows in North America. Yet, somehow, Chibson USA managed to win this prestigious distinction four years running. And while the music world converged in southern California for the always-anticipated NAMM Show (National Association of Music Merchants), Chibson's own representatives loitered inside a parking garage outside the Anaheim Convention Center.
"NAMM is one of those big events that we would look forward to every year," says Chibson USA founder, Jason USA. "It's a great opportunity for companies and artists alike to meet and socialize- A lot of great ideas have been born out of this music industry summit meeting."
However, things haven't always been so rosy for Chibson USA. Particularly several years ago when a shipment of musical equipment allegedly turned up missing and fingers were being pointed at the world-class guitar company's CEO, USA, along with numerous members of his staff, including a few top-ranking associates not yet on the books. Details covering the infamous weekend, which resulted in Chibson's ban, have been chronicled in the now out-of-print Chibson biography Chibson USA: The Untold Story.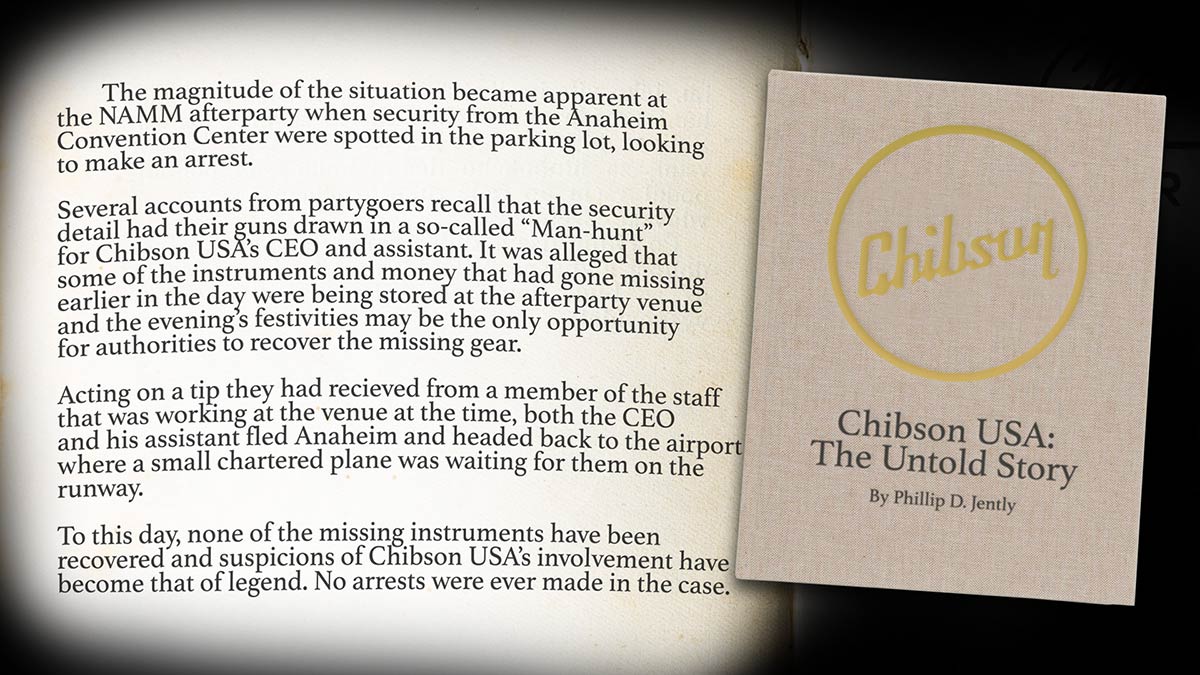 Excerpt from 2010's Chibson USA: The Untold Story (Big Bear Press)
Backed by their own infamy, the team at Chibson had decided they were going to approach NAMM 2020 a bit differently. Instead of using the traditional channels of gaining entry to the convention, the Chibson gang disguised themselves as ordinary merchants and proceeded to sneak in some of their instruments (most notably the Chibson Durst Burst), while paying off several booth owners to display their products and wares for a limited time, before anyone from NAMM security could be notified.
Also, to prevent any questions from attendees, Chibson employed the help of actors to portray "security," in hopes of giving off the appearance that not only was Chibson invited to participate in the festivities, but they were actually invited.
"It was great. Nobody had a clue we weren't supposed to be there," says an out of breath Jason USA. "We faked our credentials and stuffed a crisp $20 dollar bill into the pocket of one of the real security guards and we were in." Adding insult to injury for the staff at NAMM, once the announcement on social media had gone out that Chibson was in fact in the building, lines began forming to catch a rare glimpse of their famous Durst Burst guitar.
Chibson managed to secure and smuggle out video footage of their appearance and were quick to share it on the company's YouTube channel. Watch below for the details.
Share This Story!