Turns out the Placebo Pedal actually does something!?!
Skip the line to get one of the very last Placebo Pedals HERE ( All Placebo Pedals come with a collector's box and are signed/numbered. while supplies last…)
There seems to be a whole lot of confusion or mystery surrounding the Chibson Placebo Pedal.
Maybe it was the press that got it wrong or maybe it was Chibson's own ad campaign that stated "it does nothing" but the truth of the matter is, Chibson USA's Placebo Pedal really does do something! We aren't lying either…it really does.
Back in 2021, some thought it was merely a clever marketing ploy when Chibson printed the message "9 out of 10 doctors agree this pedal does nothing" on their own pedal's packaging. Others crafted informative and entertaining reviews highlighting the pedal's functions – True Bypass and a green light indicating that the pedal is "On".
What most critics and historians may not have been counting on was the voice of that one single doctor. That one doctor who voted against the other nine when asked if the Placebo Pedal did anything. Perhaps he had knowledge that the other doctors weren't aware. Better yet, maybe his experiments provided more conclusive results.
This actually brings up a really interesting point which is, "Who are these other 9 doctors?" In which state do they practice medicine? Our diagnosis: always get a second opinion.
What we do know is the Placebo Pedal does actually do something and by something we mean, it can make noise. Fuzz, to be exact!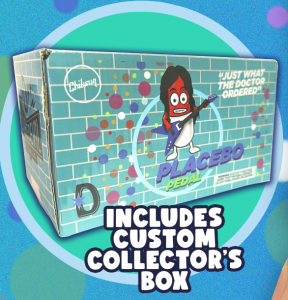 That's right. When Chibson USA and Daredevil pedals teamed up to design the Placebo Pedal, they added a "backdoor" or "fail-safe" option to the pedal. They wanted to offer all of the incredible functionality of a pedal that does nothing, while allowing pedal owners the opportunity to upgrade to a fully functioning Vintage Fuzz. 
We know our fans are now asking, "Why weren't we told about the fuzz upgrade before?"
This is a tricky question because this information has been public since the pedal's release. That's right, the option to add a working PCB board and schematic was featured in a drop-down box on Daredevil's own website, yet somehow, the masses seemed to overlook this very important detail…inviting themselves to the Side Effect we call Silence.
Was it suppression of information? Or worse, Medical Misinformation? Why wasn't the public made aware that the Placebo Pedal actually does something? All we can say for certain is that trials are ongoing.
When we look back on 2021, will the bigger picture on the Placebo Pedal come to light? Will we finally get the answers we are looking for? Will justice prevail?
We may never know. However, one thing we do know is: The Placebo Pedal does really do something!
For privacy reasons YouTube needs your permission to be loaded. For more details, please see our
Privacy Policy
.
I Accept
Share This Story!