Chibson USA & Gear Dogs deliver the goods at NAMM 2022
Chibson USA's gear expert and YouTube personality, Marky from Gear Dogs, will be returning to the YouTube airwaves with new content and coverage of the recent NAMM 2022 event in Anaheim, CA. With the help of the Chibson team, Marky caught many of the booths at NAMM and will offer a sneak peek of some of the latest guitar innovations to be released so far this year.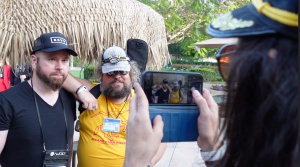 Attending NAMM is nothing new for the Chibson team, and in 2022 the focus was on bringing audiences a different side of Marky. Viewers will see Marky give hard-hitting interviews with some of the industry's leading guitar makers and follow along in the fun as he experiences his first NAMM, and interacts with spectators and Chibson fans alike who were stoked to finally meet the YouTuber face to face in the real world!
In addition to gear reviews and interviews, Marky was also both witness and participant in the unveiling of Chibson's latest innovation: The Klontar.
NAMM 2022 was Chibson USA's exclusive launch of the Klontar, the world's first instrument that is one part Klon Centaur and one part Guitar. The Chibson team presented the instrument in the Laney Amplification booth while Marky, ever the showman, acted as MC and hype man for the event.
Some called it "genius" and others referred to it as "performance art", but one thing is certain – the Klontar dazzled NAMM attendees. To demonstrate the Klontar's incredible sound and effects, Chibson invited the influencer Derek from Masters of Shred, dressed as a Centaur, to wail away while a crowd gathered in awe. What more could one ask for from a Chibson appearance?
We know! More Marky! That is exactly why the Chibson team made sure that Marky had secret access to the Whiskey a Go Go in Hollywood, CA to catch Buckcherry's sound check and shoot another exciting episode of their new, hot series Chib Checkout, featuring the band's guitarist, Billy Rowe. It doesn't get any more rock and roll than this!
For privacy reasons YouTube needs your permission to be loaded. For more details, please see our
Privacy Policy
.
I Accept
For privacy reasons YouTube needs your permission to be loaded. For more details, please see our
Privacy Policy
.
I Accept
Make sure to grab your headlamp because Marky is back! Stay tuned for more episodes on the Chibson USA YouTube channel.
Share This Story!