Chibson USA and the spirit of Fred Durst
Throughout history, we have seen many famous and successful duos define a generation – Hall & Oates, Lennon & McCartney, Bacharach & David, Cheech & Chong, Feldman & Haim, Captain & Tennille, Laurel & Hardy, Crockett & Tubbs, Jon & Ponch… the list goes on. And in 2018, to the surprise of many, that star-studded collection of talent received another inducted duet – The unlikely, yet harmonious, pairing of Chibson USA & Fred Durst.
Above: The original 2018 & 2019 Durst Burst Ad Campaign (courtesy of Chibson USA)
Below: Fred Durst receiving the Durst Burst prototype from Chibson. (Courtesy of Chibson Entertainment USA)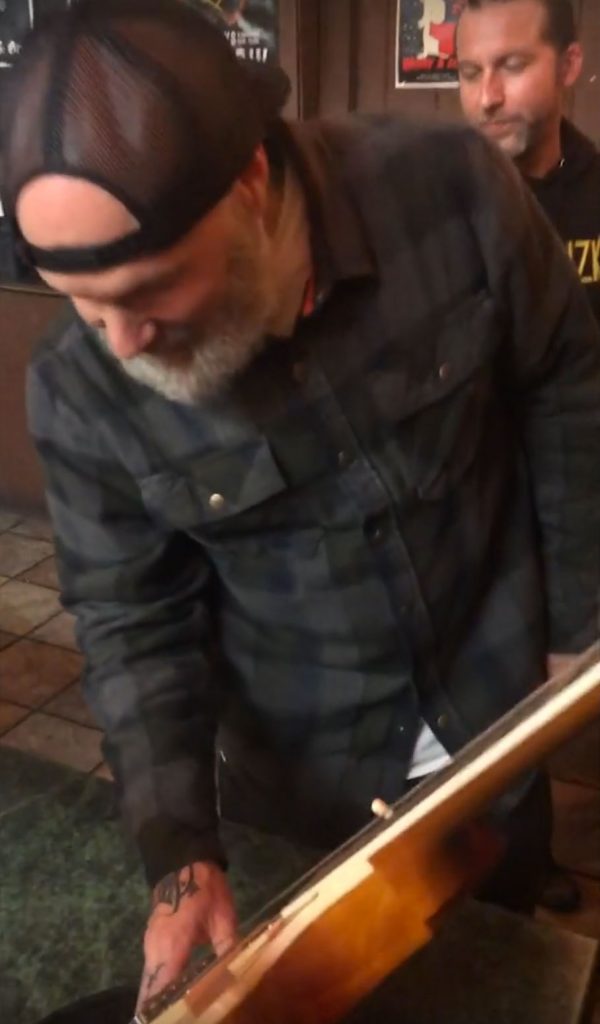 "It came to me in a dream," says Chibson CEO, on the initial pairing, "…One day I woke up and had the idea of Fred's face baked into the maple veneer of a guitar." A few sketches from designers and luthiers later, lo and behold, the Durst Burst was born. Both scoffed by the critics and lovingly embraced by fans, the Durst Burst would eventually become an integral part of Chibson's identity as an innovator and leading brand. But it wasn't until a surprise meeting between Durst and Chibson CEO, Jason USA, in December of 2019, that this dynamic partnership would fuse internet legend with reality.
"We were excited because we were able to finally deliver Fred the original prototype for the Durst Burst…and I think he loved it." USA recalled via telephone. 2020 was slated to be the kickoff year for a Durst/Chibson campaign but was delayed due to the recent Covid-19 pandemic. Both Chibson and Durst look to continue working together. However, as of this article's publication, no plans have been put in place to revisit the original promotion. Despite that, efforts going on behind the scenes were recently leaked to the internet via Chibson USA's own Instagram account of a Durst Burst II- A double-neck instrument that promises to "quench your thirst for the Durst Burst."
Fred Durst could not be reached for comment.
Take a look at Chibson USA and Fred Durst's launch video for the Durst Burst:
For privacy reasons YouTube needs your permission to be loaded. For more details, please see our
Privacy Policy
.
I Accept
Share This Story!