The hellish new signature guitar, made for a Top Chef!
Musicians and foodies alike may be surprised to learn that Chibson USA was the first company to sponsor celebrity Chef Gordon Ramsay. When we first learned of this foul-mouthed chef from across the pond, who enjoys making people cry as much as making great food, we knew a partnership would be much more than just a flash in the pan and immediately reached out to his team.
In the years since Chibson USA discovered him, Chef Ramsay has launched dozens of successful television shows, restaurants, and cookbooks appealing to a broad audience and generating billions in revenue. Meanwhile, we have continued to develop highly-specialized products that cater to the most narrow of demographics within the music industry. Unreliable quality and extremely high prices keep our gear and accessories out of reach for 99.9% of musicians, and Chibson USA has faced financial ruin multiple times.
Despite these many differences in our corporate strategy and success, a few years back Gordon invited us to dine at one of his award-winning restaurants. As he wined and dined our execs over Beef Wellington and Lobster Risotto, Gordon let us know he was finally ready to release his own signature guitar. After a meticulous design process, the perfectly seasoned Hell's Chibson guitar was released in 2020. Featuring a cutting board and double neck design, the Hell's Chibson gives players more than one way to show off their chops. From knife skills to straight shredding – this guitar has something for everyone.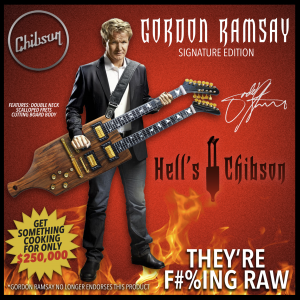 Three James Beard Awards, seven Michelin Stars, and multiple five-star Yelp reviews later the Hell's Chibson remains one Chibson's most popular products. That's because we take pride in the bold flavor of our guitars and put our heart on the plate. Who else can make such claims? Certainly not them other guys.
For more recipes, visit Chibson.com
Share This Story!