Joe Bonamassa's persona immortalized in plastic
Over the years, Chibson has gained notoriety for its keen eye for innovation and its ability to have its finger on the pulse of the music industry. Just a quick glance at Chibson's vast catalog of products and you'll be amazed by the volume of cutting-edge ideas and award-winning technology. This is why in 2020, it was no surprise that Chibson would pivot into the action figure space with their first-ever toy: IG Joe.
Based on the likeness of legendary blues guitarist Joe Bonamassa, Chibson USA painstakingly recreated Joe's guitar museum (Famously referred to as 'Nerdville'), his guitar collection, and even Joe's stage wear. If buying plastic and storing it in a dry, dark place for a very long time is your thing… then you will be spellbound by this rare piece of music history.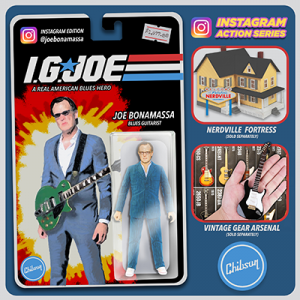 Chibson USA was pleased when Joe Bonamassa had discovered that Chibson USA has used his likeness without permission, he did not immediately press charges. In fact, only a day later did Joe's social media team re-share the original Chibson USA ad on their Facebook and Twitter pages and the response was overwhelming.
Emails and DMs began to pour in via Chibson's social media pages with requests for the Bonamassa figurine. Offers from Europe for large sums of money began to pile up in Chibson's inbox with each passing day. If the financial gods were real, then they were definitely shining down on Chibson and Joe Bonamassa upon the release of IG Joe.
Now, some may be wondering, "What is the significance of IG Joe?" and that is a great question. The truth is always a little stranger than
fiction…but let's give it a shot. Most Americans are familiar with the Mattel Toys mega-franchise "G.I. Joe". However, many may not be familiar with Joe Bonamassa on social media and how trolls have had a tendency to single out Joe based on his popularity and success. From people leaving rude and insulting comments to meme accounts going out of their way to make fun of Bonamassa, Joe has endured his fair share of negativity, hate, and scrutiny.
As you are pretty well aware, Chibson USA has also had a difficult time with t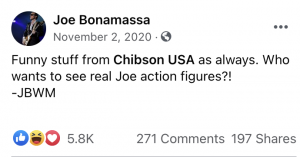 he press and fans and we're no stranger to this type of online abuse and harassment. Thus turning something negative into a positive, the designers at Chibson focused their attention on creating an action figure based on the Military themed toy with an emphasis on social media. With that, IG Joe was born.
Chibson currently does not have future plans to develop any other action figures based on real guitar players or musicians. However, Chibson CEO, Jason USA did say that he was open to the idea and any other idea that could generate a decent amount of money and a reasonably short amount of time. No word on if Jason USA has made any progress. Joe Bonamassa could not be reached for comment.
Share This Story!